Have you ever wanted to chat with Tim and Matt about White Collar? Here's your chance!
A Zoom meeting with Tim and Matt is just one of the many items up for bids in an auction benefitting The Union Solidary Coalition. According to TUSC's website, they're currently offering "direct financial support to crew members who have lost health insurance due to strike-related shutdowns." This isn't for the A-listers but instead benefits members of IATSE, Teamsters, and others who are out of work because of the strikes and who've lost their health insurance as a result.
According to the auction listing on eBay, the winner will get a 20-minute Zoom conversation with Tim and Matt where you can chat White Collar with them, and you're allowed to bring one friend! It's open to US residents only, and you can take photos but can't record video of the session. The rest of the details, including the small print, disclaimers, etc., can be found in the auction listing. The auction ends on Friday, September 22 at 7:13pm (time zone isn't specified).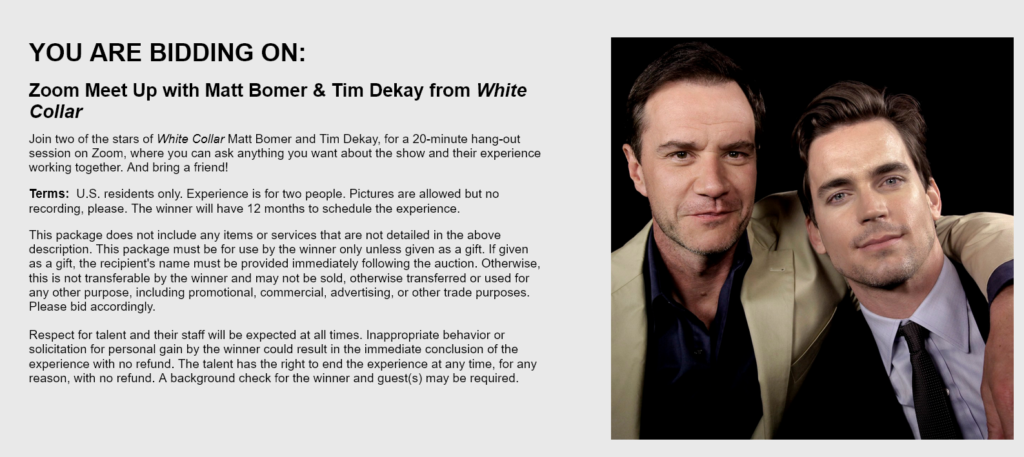 As of the time of this post, the current bid is up to $1925.00, so it's probably not even remotely feasible for most (myself included), but we hope the lucky winners have a wonderful time!
There are lots of other amazing auctions benefitting TUSC as well – check them out here! All are legitimate, but make sure to read all of the fine print before bidding! (Tim and Matt both posted about the auction on their respective IG accounts.)